A Fresh And Light Side Dish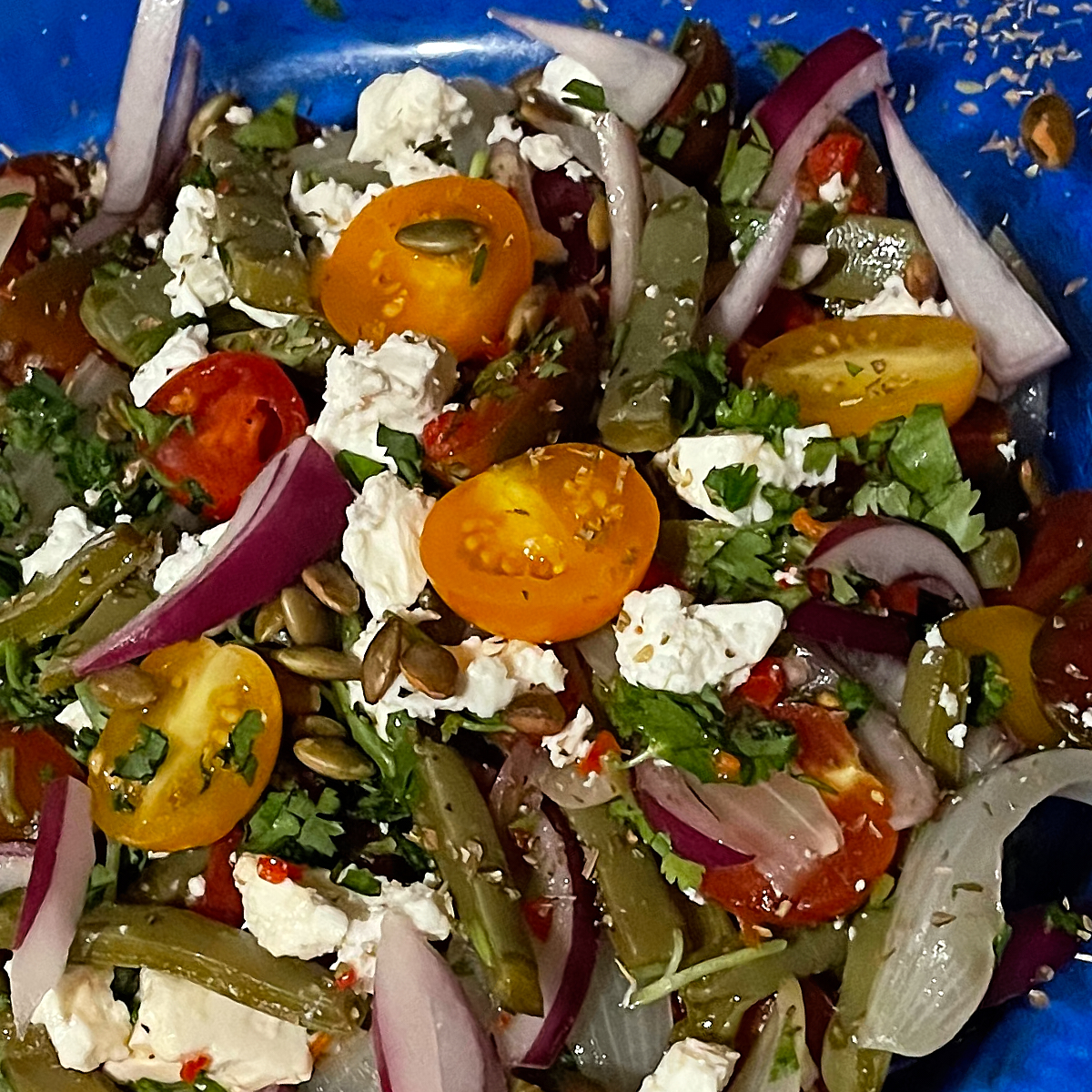 Prickly Pear Cactus Salad
Freshly foraged prickly pear cactus paddles (thank you Louis!) give a unique and refreshing, mildly bitter taste to this delightful salad based on traditional Mexican recipes. You can buy cleaned, prepared cactus paddles at many groceries and specialty stores across the southwest and it could save you a lot of effort and pain, but if you're more of a hands on kind of person, a couple YouTube videos, a little bit of practice, and some very necessary safety equipment, and you can be harvesting your own easily in no time. Thanks to Maggie Unzueta on YouTube for the preparation to remove the slime – worked like a charm!
Ingredients
1 1/4

cup

prickly pear paddles

I used two medium paddles that were cleaned of all thorns, edges trimmed, and then rinsed, dried, and cut into 1/2 inch slices

1/2

medium onion

cut into chunks

1/2

cup

cilantro stems

2

small Serrano peppers

halved

1

garlic clove

left whole with skin removed

2

cups

cherry tomatoes

halved

1/4

cup

red onion

sliced

1/4

cup

cilantro

chopped

1

Fresno chili

halved, seeded, and minced

1/4

cup

queso fresco or feta cheese

crumbled into thick chunks

juice of 1 lime

2

tablespoons

olive oil

salt, pepper, and Mexican oregano to taste

2

tablespoons

toasted pumpkin seeds
Instructions
Place cactus, onion, cilantro, Serrano peppers, and whole garlic clove into a medium sauce pan over medium heat, and let them cook, stirring frequently, for 18 minutes. Do not put any oil or water in the pan. The slimy stuff from the cactus will suffice for a kind of liquid element, and by the time 18 minutes are up, the slime will have been cooked away, and the cilantro stems and chili peppers will have pretty much disintegrated. It will look like you've ruined the bottom of your pan, but fear not, just let it soak in the sink for a bit and with minimal effort the pan can be cleaned.

Separate the cactus strips from the onion and garlic. Place the cactus in a large bowl, and sllice the cooked onion up and add that to the bowl. Mince the garlic clove and place it into a small bowl for the dressing.

Add the cherry tomatoes, red onion, cilantro, Fresno chili, and cheese to the large bowl.

Squeeze the lime halves into the small bowl with the minced garlic and add the olive oil. Season with salt, pepper, and oregano, and mix it up. Pour over the salad and sprinkle with toasted pumpkin seeds.

You can buy toasted or roasted pumpkin seeds in the store, or you can toast your own raw seeds. Simply place them in a small frying pan that has been heating over medium high heat for a few seconds, and drizzle a few drops of extra virgin olive oil over them, season with salt and pepper, and mix them around thoroughly with a wooden spoon. Reduce the heat to medium, and cook them, stirring frequently for a few minutes until they are toasted and some of them pop. Remove them onto a paper towel, and dab off any excess oil. Store in an air tight container for a couple days. They make great snacks, so they won't last too long.
Nutritional Info
---
---