A Feisty Vegetarian Go To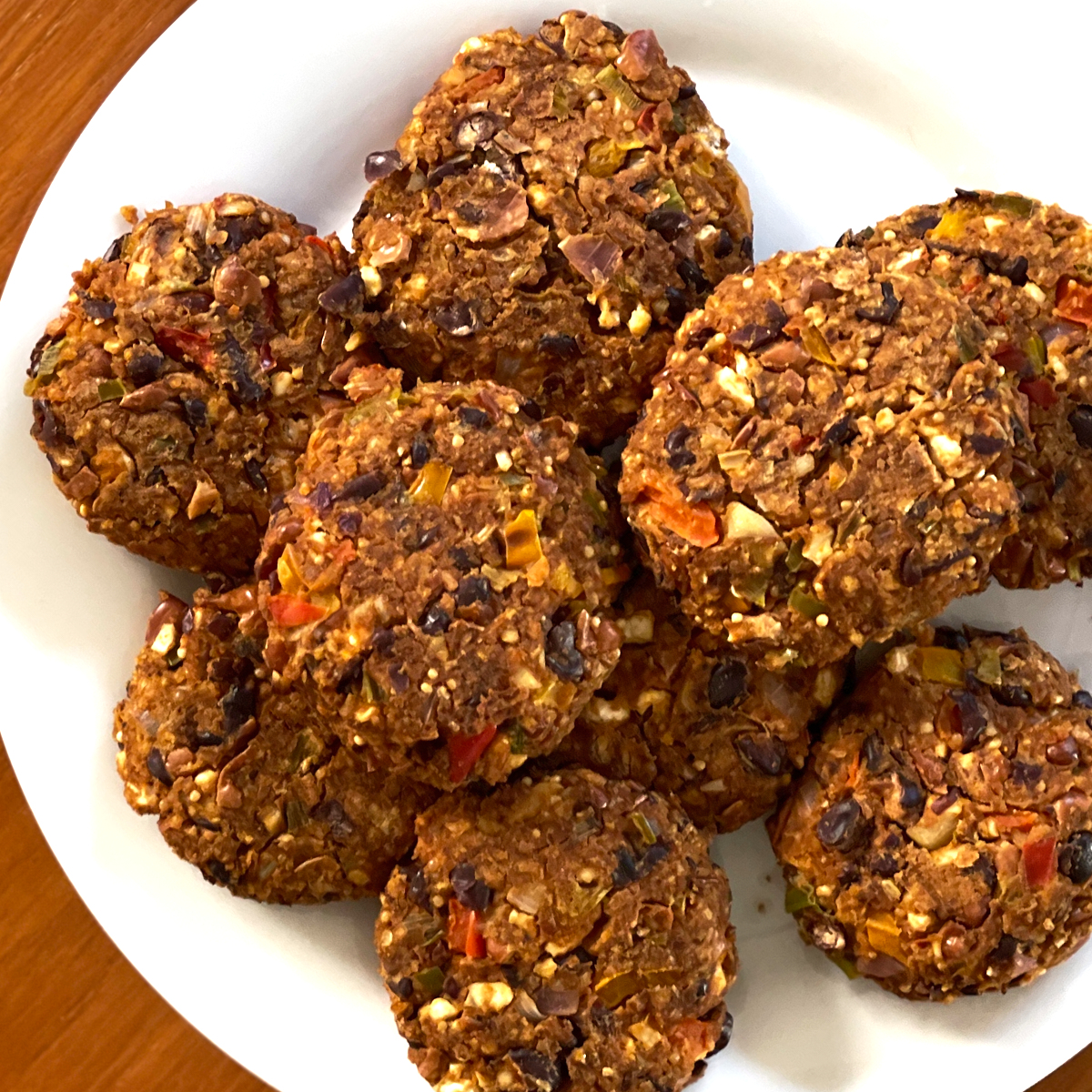 Hearty Bean Burgers
Whether on a toasted English muffin or along side your favorite big salad, these patties will become one of your favorite meatless meals.
Ingredients
1

can black beans

rinsed, drained, and patted dry

1

can pinto beans

rinsed, drained, and patted dry

1

tablespoon

whole mustard seeds

yellow or black and totally optional

1

tablespoon

olive oil

3/4

cup

green onion

finely chopped

1/4

cup

red onion

finely chopped

1

cup

mixed bell peppers

finely chopped

3

cloves

garlic

minced

salt and pepper to taste

1/2

cup

Panko breadcrumbs

1 1/2

teaspoons

cumin

1 1/2

teaspoons

chili powder

1

teaspoon

garlic powder

1/2

teaspoon

onion powder

1/4

teaspoon

celery salt

1

tablespoon

Worcestershire sauce

1

tablespoon

mayonaise

1

tablespoon

Tapatio Sauce

or one of your other favorite hot sauces

1/2

cup

feta cheese

crumbled

2

large eggs

whisked
Instructions
Preheat oven to 325 degrees Fahrenheit.

Spread the beans across a parchment lined sheet pan and sprinkle with the mustard seeds. Some say that mustard seed helps the body digest legumes. Not sure about that, but have been doing it for years and it seems to help.

Bake the beans for 15 minutes. Remove from the oven, mash with a potato masher, and leave to cool. Increase the heat on your oven now to 375 degrees Fahrenheit.

Heat olive oil in a large frying pan over medium high heat, and saute the vegetables for a few minutes until softened. While cooking, season the mixture with salt and pepper, and stir to blend thoroughly. Set aside.

Put the cooled beans into a large mixing bowl, saving the parchment and placing it back over the sheet pan. Add the cooled vegetables and the rest of the ingredients to the bowl and mix to combine. Season with a couple more shakes of salt and pepper if you are so inclined, and then mix and form into 1/3 cup patties with a measuring cup. Place the patties on the parchment lined sheet pan, and bake for 8 to 10 minutes on each side. You want them to be a nice golden brown color.

Serve with your choice of bread or salad and don't forget to whip up a batch of Spicy Yogurt Mayo Sauce from this site.
Nutritional Info
---
---