A Simple Dish To Transport You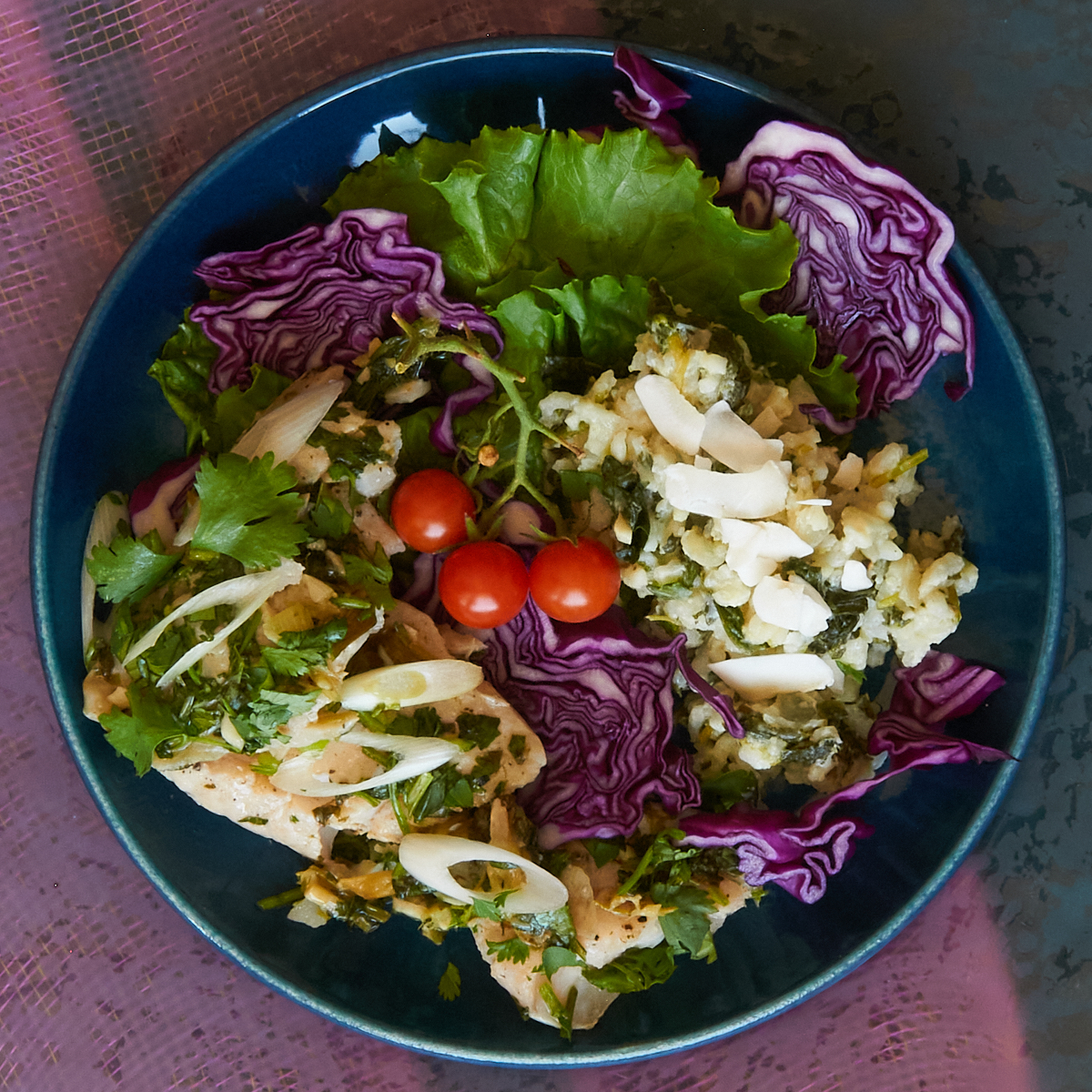 Red Snapper With Spinach and Coconut Rice
A delectable dish that feels like an island vacation and is super easy to pull together.
Ingredients
For The Rice
2

tablespoons

olive oil

1/2

medium onion chopped

1

clove

garlic minced

1/2

lime juiced

1

tablespoon

Yondu Vegetable Umami you can find this on amazon

2/3

cups

coconut cream I used a 5.4 ounce can from Native Forest

3

cups

raw spinach chopped

1/2

cup

cilantro chopped and divided in half

2

packs seaweed snacks sliced then minced optional

2

cups

cooked rice

salt and pepper to taste
For The Fish
2

tablespoons

olive oil

2

green onions sliced on the diagonal

1/2

teaspoon

fresh ginger minced

1

clove

garlic minced

1

Serrano pepper sliced thinly into circles

1/2

teaspoon

Yondu Vegetable Umami

1

pound

red snapper
Instructions
Heat oil in large non stick frying pan. Add onions and cook until lightly browned and soft. Add garlic and cook a few minutes more.

Add the rice to the onions and garlic and drizzle with lime juice, Yondo Vegetable Umami, and coconut cream. Mix around then add the spinach, half of the cilantro, and seaweed if you choose to add it. Stir to combine and cook the spinach and heat through. Taste to see if you'd like more salt and some pepper. If you use the seaweed, it is probably salty enough without adding more.

Transfer to a microwaveable serving dish to reheat just before eating. Please note that the optional seaweed is not included in the nutritional info.

Heat another 2 tablespoons of olive oil in the same non stick pan you just removed the rice from. Add the scallions, ginger, and garlic and stir a minute or so until softened. Add the rest of the cilantro, and drizzle the sauce with 1/2 teaspoon Yondo Vegetable Umami. Mix it up. Turn off the heat.

Place the fish on top of the mixture and swish it around, letting the fish marinate a bit. Then turn the heat to medium high and cook the herb covered snapper for about 2 minutes each side or until cooked through. The fish tends to flake apart as it's moved around, but I think it presents nicely in chunks like that.

Serve next to the spinach and coconut rice, garnish with a little more cilantro, green onion slices, and Serrano slices, and maybe even some dried coconut chips if you like.

Serve with some fresh raw vegetables, a nice green salad, or your favorite cooked vegetables to round out the meal.
Nutritional Info
---
---