Some Nostalgic Comfort Food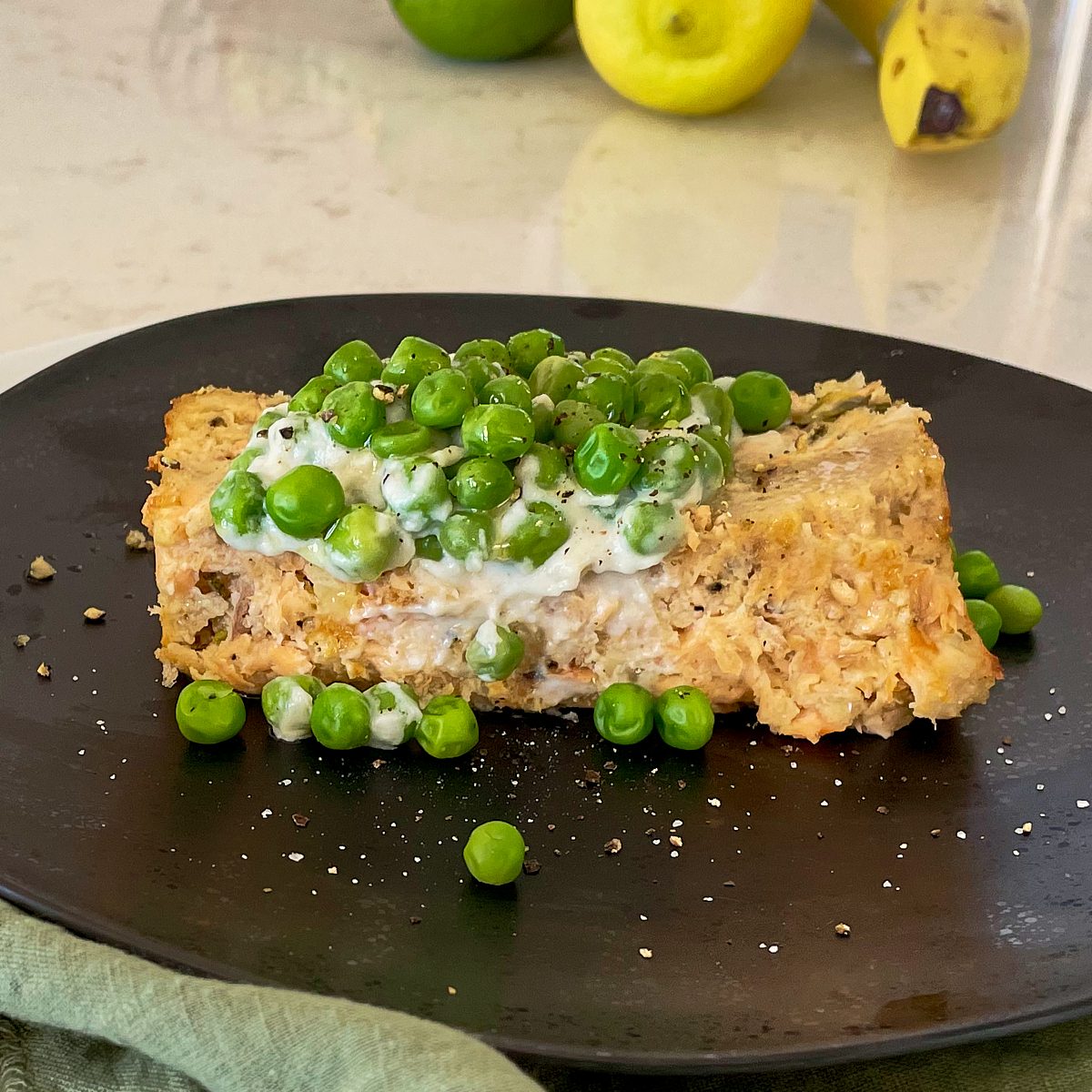 Nan's Salmon Loaf With Creamed Peas
An old family favorite that I've taken a couple liberties with since I didn't have all of my grandmother's ingredients exactly as she wrote them. We got to enjoy this dish countless times growing up since it was my grandfather's favorite. It's pretty dang tasty and a great way to use leftover salmon and feed a lot of people at the same time.
Ingredients
For the loaf
4

cups

white bread with crusts cut off cut into small cubes

2

tablespoon

onion minced

or 1 tablespoon dehydrated onion

2

large eggs well beaten

1 1/2

cups

whole milk

2

tablespoons

melted butter

1

pound

fresh cooked salmon, I used Atlantic

or 1 pound canned red salmon

1/4

teaspoon

dry marjoram
For the topping
1/3

cup

Panko bread crumbs

2

tablespoon

melted butter

1

pinch

each cayenne pepper, salt, and pepper

Or you can omit this topping and simply sprinkle a little flour over the top like Nan did. I kind of like it with a little crunch.
For creamed peas
1

12 ounce

package frozen peas

2

tablespoons

butter

2

tablespoons

flour

1 1/4

cups

whole milk

salt and pepper to taste

1

pinch

freshly grated nutmeg
Instructions
Preheat oven to 325 degrees Fahrenheit.
For the loaf
Mix all of the loaf ingredients in a large bowl, then turn out into a buttered loaf pan.
For the topping
In a small bowl combine the Panko and melted butter with the cayenne, salt, and pepper, then spread the mixture evenly over the top of the loaf. Bake for about 1 hour or when the topping has turned a light golden brown.

Remove from the oven to set for 10 minutes.
For the creamed peas
Cook the peas per package instructions and set aside.

In a medium saucepan over medium high heat, make a rue by melting the butter and mixing the flour into it. Stir for a few minutes to combine well and cook the flour but not to brown it.

After a few minutes, gradually add the milk to the rue in stages. Stirring continuously with a wire whisk, break up the lumps, continuously smoothing the mixture out after each addition of milk.

When you've finished adding all of your milk and the mixture is smooth, add the salt, pepper, and nutmeg and stir again. Blend in the seasoning for a minute or two, and then fold in your cooked peas.

Cut the salmon loaf into 8 equal slices and serve topped with the creamed peas and maybe a nice baked potato and a salad on the side.
Nutritional Info
---
---