A Simple Tasty Make Ahead Meal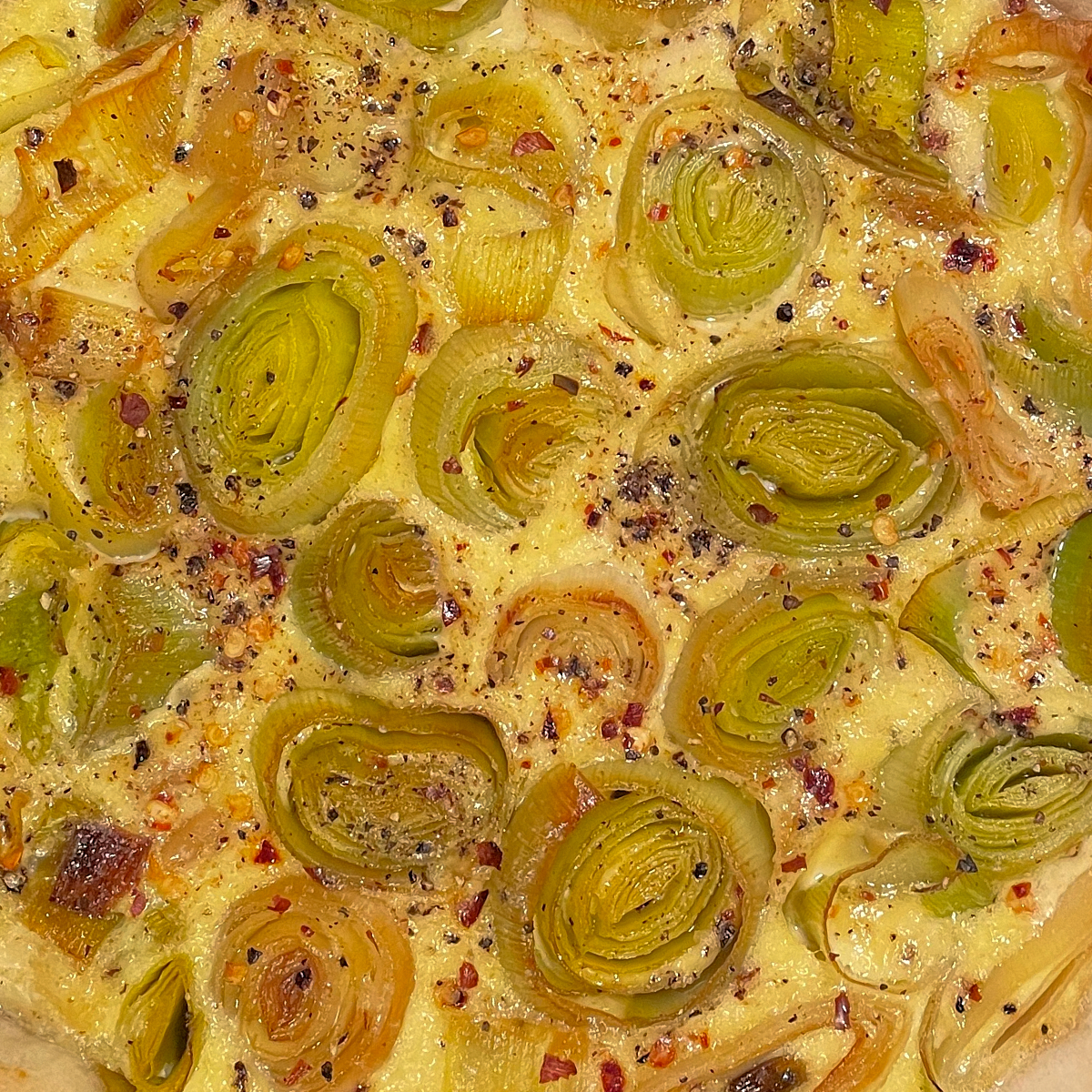 Luscious Leek and Mixed Cheese Tart
This creamy savory tart is the perfect lunch or dinner entree. Add the crispy Grape and Bitter Greens Salad from this site and perhaps some roasted potatoes on the side, and you have a very satisfying meal that makes a simple yet elegant presentation.
Ingredients
1

single 9 inch pie crust

4

leeks

3

tablespoons

olive oil

3

cloves

garlic

minced

salt and pepper

4

ounces

white wine

I used Sauvignon Blanc since that's what I had on hand

4

eggs

1 1/4

cup

heavy cream

3/4

cups

cheese

shredded, I used a mix of manchego, parmigiano reggiano and cheddar

salt and pepper

1

tablespoon

melted butter

freshly grated nutmeg
Instructions
Preheat oven to 350 degrees Fahrenheit.

Roll a disc of your favorite pie dough out to fit a 9 inch shallow pie dish. Set aside.

Trim the ends and green leaves off of each leek, and cut them into half inch rounds. Soak and swish the rounds around in a bowl of cold water to remove the sand and dirt. Drain and rinse again, sticking your thumbs in the center of the rounds from each direction under the water to make sure you've removed all the grit. Drain and pat dry with a clean towel.

Heat oil in a large frying pan over medium high heat. Lay the leek rounds side by side in the pan so circles are facing up. They will be pretty close together in the pan by the time you get them all in there. Sprinkle the garlic over the top. Cover and cook for a few minutes and then season with salt and pepper, add the wine, and cover again. Continue to cook, gently flipping the rounds a couple times with a spatula, about 5 minutes until there is little liquid left in the pan. Keeping the pan covered, turn off the heat, and let sit for an additional 5 minutes.

Crack the eggs into a medium sized bowl and whisk until blended. Add the cream and season with salt and pepper then whisk again.

Pour the egg mixture into the rolled out dough. Sprinkle 1/2 cup of the cheese evenly over the top, and gently place the leek rounds over the top of that. Sprinkle with the remaining 1/4 cup of cheese.

Brush the dough edges and the top of the leeks with butter, and grate some nutmeg over the top. Bake for 30 to 35 minutes or until the tart is set and doesn't jiggle.

Slice into 6 wedges and serve with salad and potatoes.
Nutritional Info
---
---