A Gratifying and Cozy Combination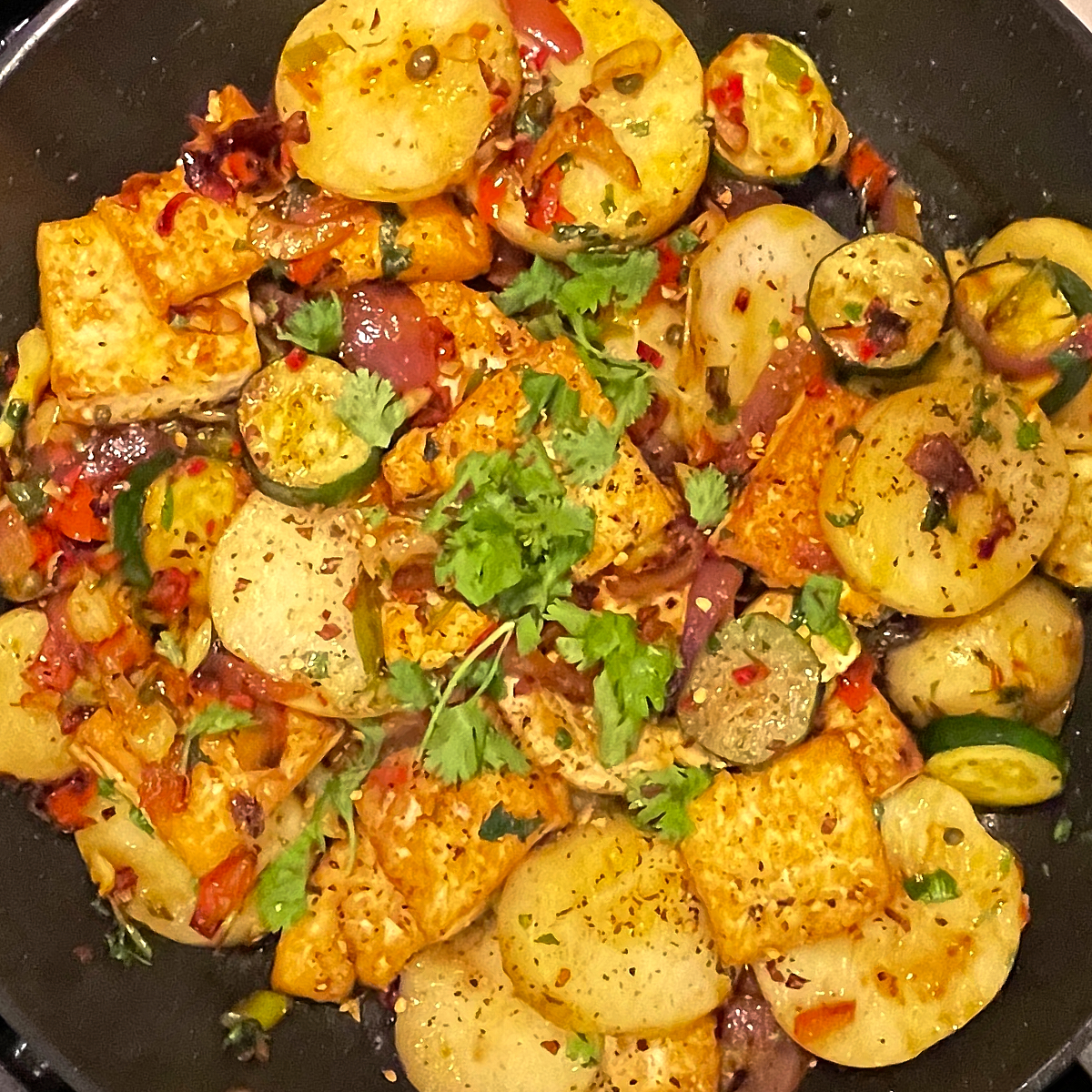 Tofu with Vegetables and Calabrian Chili Sauce
Healthy, tasty with a nice little kick, this dish takes a bit of chopping but is still pretty easy to throw together.
Ingredients
2

medium potatoes

sliced into 1/4 inch slices

1/2

red pepper

sliced

1/2

yellow pepper

sliced

1

Fresno chili

halved, seeded, and minced

1

stalk celery

sliced

1

large zucchini

sliced

1/4

cup

green onions

sliced

1/4

cup

red onion

sliced

3

cloves

garlic

minced

2

tablespoons

olive oil

3

tablespoons

safflower oil

1

block firm tofu

3

tablespoons

butter

1

clove

garlic

minced

1

teaspoon

capers

1/4

teaspoon

caper juice

zest of half a lemon

1

teaspoon

Calabrian chili paste

salt, pepper, and crushed red pepper flakes

to taste

chopped fresh herbs for garnish

I used basil and cilantro because that is what I had, but parsley would work well too
Instructions
Boil the sliced potatoes for 5 to 7 minutes until fork tender. Rinse with cold water, drain, and set aside.

Prepare vegetables by chopping or slicing them, and set aside.

Pour olive oil into a large frying pan heated over medium high heat. Add all ingredients from red pepper to garlic into the pan and stir around a bit. Place a cover over the top of the pan and cook for about 5 to 7 minutes, stirring occasionally, until the vegetables are cooked but not mushy. Remove them from the pan onto a plate or bowl and set aside.

Rinse tofu and place in the center of a clean dish cloth. Wrap it up in the cloth and over the sink squeeze the tofu gently, don't crush it, just lightly squeeze the water out the sides to get absorbed into the towel. Remove towel and place tofu on a cutting bard. With the block horizontally laid out before you, slice tofu vertically in half, then slice each half in quarters, then slice each quarter in half so you have 8 slices. Then hold your knife horizontally and slice the tofu in half. You should now have 16 squares. Lay them across the cutting board and dab them to dry, then sprinkle with salt and pepper.

In that same frying pan as you cooked the vegetables in, heat the safflower oil over medium high heat. Add the tofu, salt and pepper side down, and leave undisturbed to fry for 4 minutes. Turn the tofu over, salt and pepper the squares, then cook for another 4 minutes. Remove tofu from pan onto a paper towel and blot off any excess oil. Place aside.

Melt butter in the microwave for about 20 or so seconds, or cook over the stove until melted. Remove from the heat, and add garlic, capers, caper juice, lemon zest Calabrian chili paste, and salt, and pepper. Set aside.

Now that all the components are prepared, it's time to put them all together. Over medium high heat place the vegetables and tofu together in the same frying pan you used to cook them in separately and pour the butter sauce over the top. Mix together and heat through. Garnish with crushed red pepper flakes and a sprinkling of herbs. You can serve it right out of the hot pan.

Pair this dish with a nice salad, and you have a hearty vegetarian meal.
Nutritional Info
---
---