Breakfast of Champions or a Fabulous Any Time of Day Snack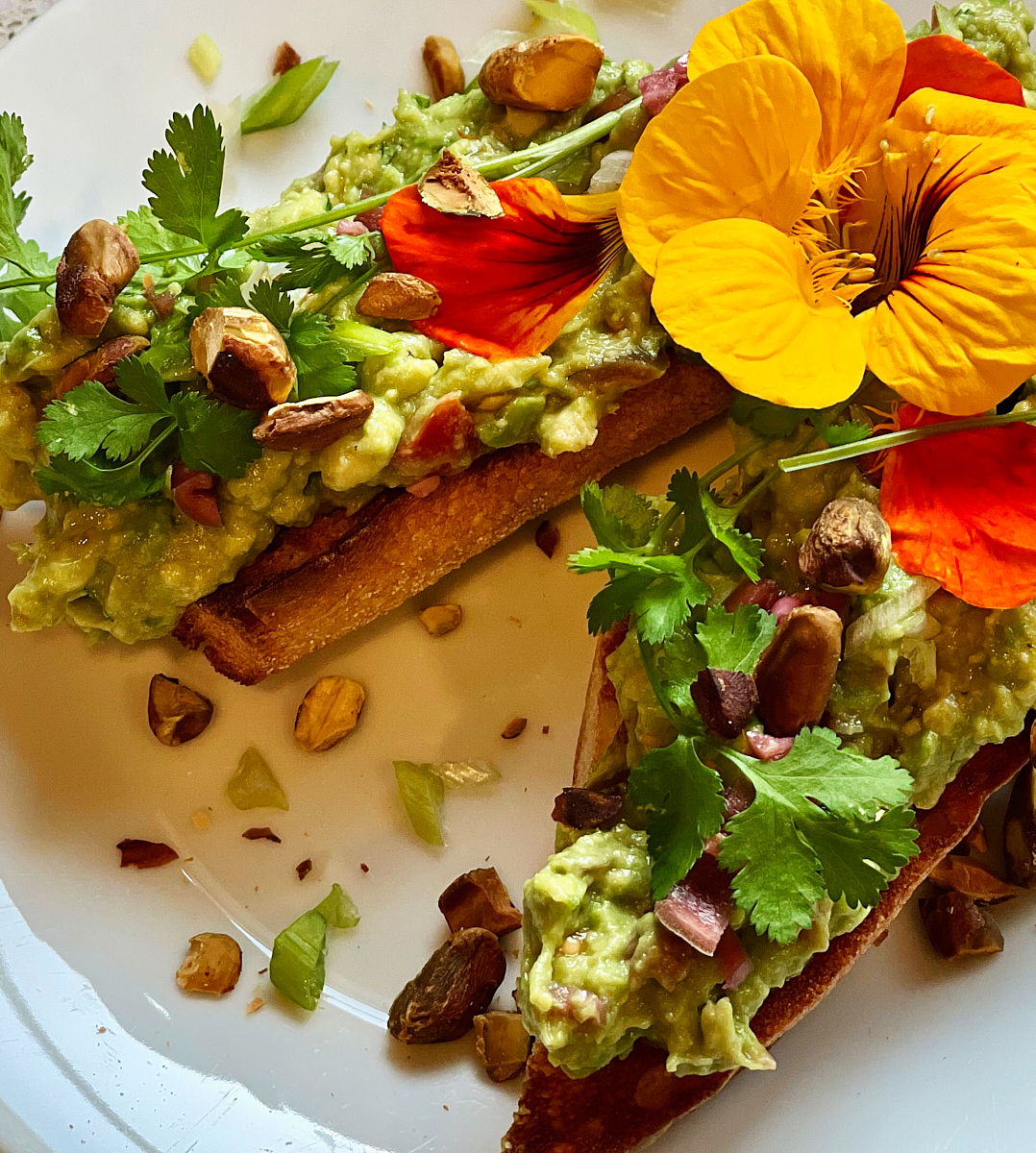 Avocado Toast
Nothing quite as gratifying when breaking your fast as this combo of crunchy, creamy nuttiness.
Ingredients
2

slices

sourdough baguette

cut on the diagonal about a quarter inch thick

1/2

an avocado

squeeze of lime juice

salt and freshly ground black pepper

1/4

teaspoon

flax meal

1/2

teaspoon

pistachios

1/2

teaspoon

red onion

minced

couple of sprigs of cilantro

Nasturtium blossom petals
Instructions
Toast your bread.

Cut an avocado in half. Put one half in the fridge for later, and scoop out the flesh of the other half, and divide it between your 2 slices of toast. Break it up a little bit with a fork. You want it to stay pretty chunky though.

Squeeze a little lime juice over the top of each toast, and finish with salt, pepper, flax meal, pistachios, onions, and cilantro.

Top with Nasturtium blossoms if you have any. They look pretty, smell heavenly, and have a pleasant peppery taste.
Note: You can easily swap out the pistachios for pine nuts, pepitas, or sunflower seeds, and the red onion for green onion, or sweet white onion. And an English muffin or some whole grain bread would be a perfect substitution for the baguette. Have fun with it, and mix it up. Really anything goes. Oh, and a sprinkle of that Everything Bagel Seasoning would be a wonderful sub for plain old salt and pepper.
Nutritional Info
---
---