A Cozy Autumn Dessert To Warm Your Heart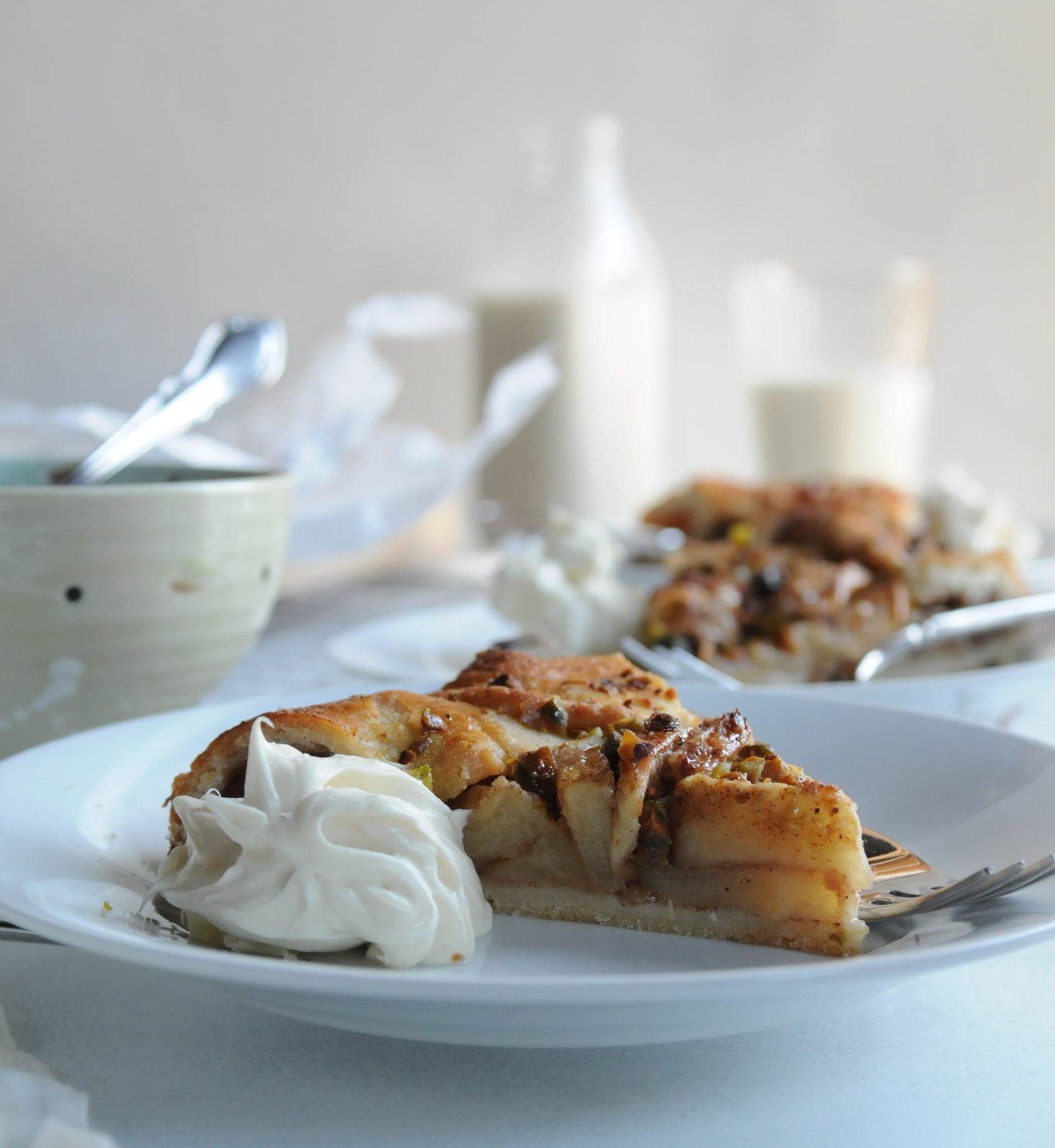 Spicy Apple Tart
A scrumptious and delicately spiced free-form fruit tart to help you ring in the fall season!
Ingredients
1

pie crust

9 inch

5

Honeycrisp Apples

peeled, halved, cored, and sliced

2

tablespoons

sugar

3

tablespoons

light brown sugar

3

tablespoons

flour

1/2

teaspoon

vanilla

1

teaspoon

cinnamon

1/8

teaspoon

clove

1/8

teaspoon

cardamom

1/8

teaspoon

freshly grated nutmeg

1/8

teaspoon

salt

2

tablespoons

lemon juice

2

tablespoons

unsalted butter

cut into small cubes

1

egg

1

tablespoon

half and half

1/8

teaspoon

sugar

2

tablespoons

pistachios

ground
Instructions
Preheat oven to 400 degrees Fahrenheit.

Line a sheet pan with parchment paper.

In a large bowl, add apples, sugar, brown sugar, flour, vanilla, cinnamon, clove, cardamom, nutmeg, salt, and lemon juice. Mix thoroughly with your hands, and set aside.

On a floured cutting board, roll out the dough making a 12 inch in diameter circle that is about 1/8 of an inch thick. It doesn't have to be a perfect circle. It is supposed to be a bit rustic looking.

Roll the edge of the dough onto the rolling pin and lift it above and roll it onto the parchment paper lined pan.

Mound the apple mixture into the center of the dough, leaving about 2 inches of dough around the edges. Dot the apple mixture with the unsalted butter cubes evenly over the mound.

Bring up the sides of the dough over the top of the apple mixture, leaving a large somewhat circular opening in the center of the tart. Press your hands firmly around the whole base of the tart to give it a more solid form.

Mix the egg with the half and half. Brush the egg wash over the crust, and sprinkle sugar over the top.

Bake in the preheated oven for 35 to 45 minutes, or until the crust is nicely tanned and the apples are cooked but not mushy.

Remove the tart from the oven, and set it out on a wire rack to cool.

Sprinkle the top with pistachios.

Serve with vanilla mascarpone, vanilla ice cream or whipped cream.
Nutritional Info
---
---